It's been three years since my husband and I went to Bohol to take another out of town trip to get away from the stress caused by work for a short time. Actually,our Bohol trip was his birthday gift to me back then. We went there just after my birthday. Bohol is the place in the Visayas region of the Philippines wherein you would get to see famous attractions like Chocolate Hills and the smallest monkey in the world (the Tarsiers). The place is also rich in historical attractions, as well as land and water adventure sites. Since we only had 3 days and 2 nights stay in the island, we just got to tour the spots on land (we never had the chance to go near the beach because of lack of time).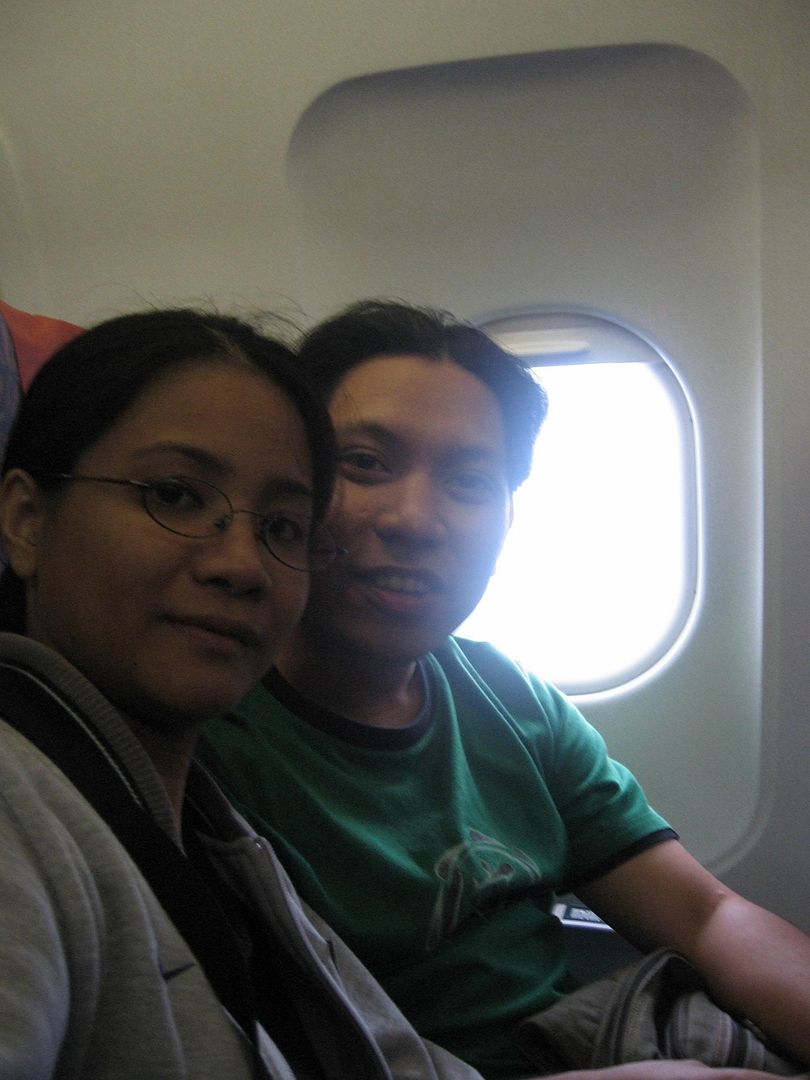 A plane ride from Manila to Tagbilaran (Bohol)
It was the end of September back then and we availed Philippine Airline's PALakbayan promo (with complete package-- fare and hotel for two). We spent almost P10000 for the complete package. I was already quite familiar about the tourist spots in Bohol because I had already gone there before (I contacted my college brod, Thirdy, who lives there and he took me for a quick tour at Chocolae Hills and Loboc River). When my husband (who was my boyfriend back then) and I went there, Thirdy was not available to tour us around, so he suggested to rent his father's car and take his father with us for a day tour.
Jeff (my husband) and I stayed at Bee Farm hotel. It was a really nice hotel. I recommend it for all those who want to visit Bohol. It is located beside the beach. It is like a country house wherein the aura is warm and relaxing. A sure get away place from the city full of big buildings and lots of traffic and pollution. The meals are healthy too because all that they serve is organic (I love their salad! Imagine I ate fresh rose petals! Hehe!). The rooms are accomodating and spacious. What I loved most about our hotel roomm was the toilet / shower room. The moment I took a bath, it's like I did not want to get out. Too bad I forgot to take a picture of the toilet / shower room! Too bad the weather's not good when we arrived there...we had a rainy first day at Bohol.
Spacious hotel room at Bee Farm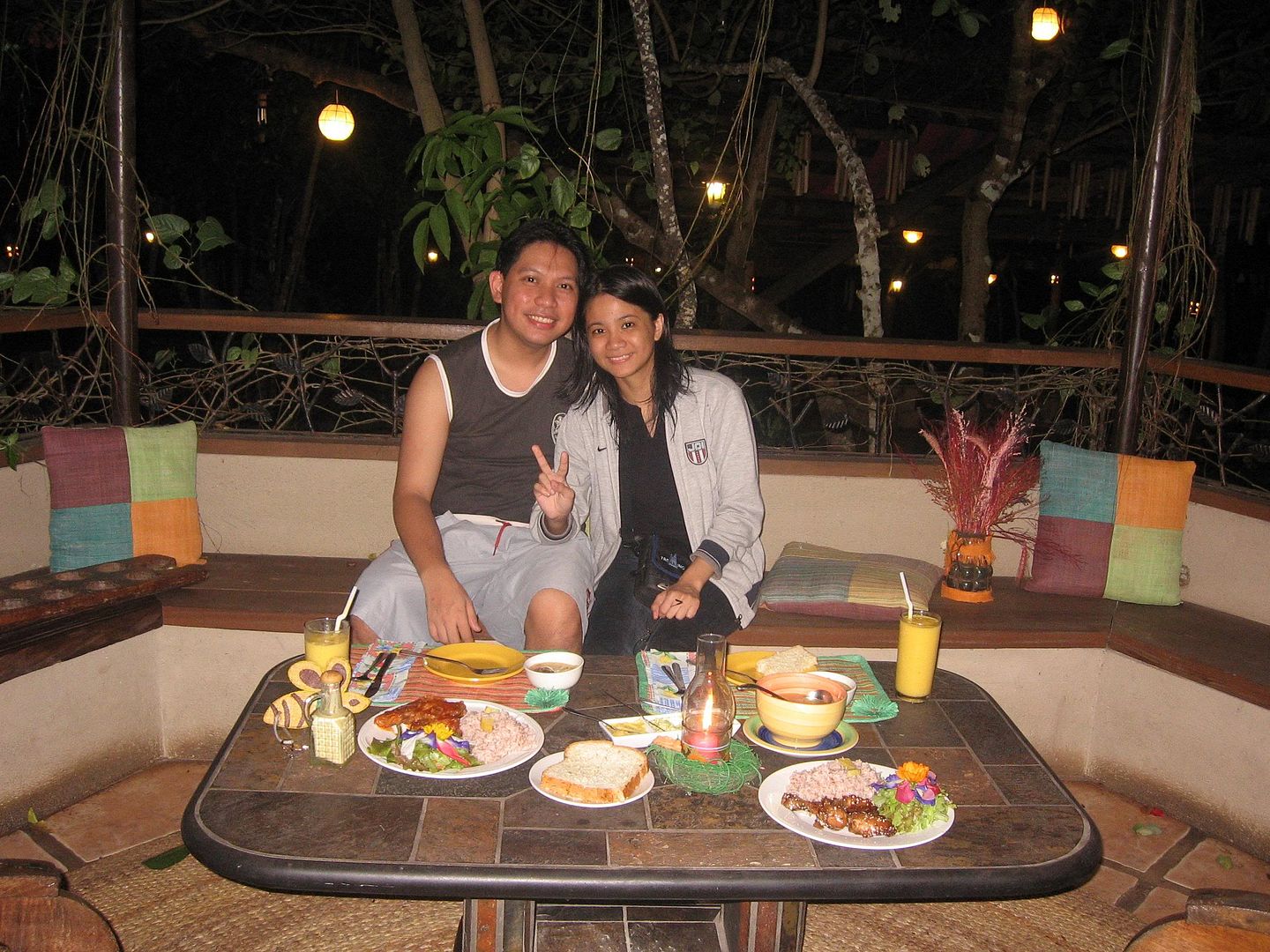 My hubby would like to post this pic in this blog...to show off the foods we ate at the hotel!
Drool on everyone! Teheee!
The next day (thank goodness, the sun appeared!) is the tour day. Thirdy's father arrived at the hotel early in the morning to take us around the nice places in Bohol. As I said earlier, we just went at the spots on land (someday we'll gonna go back at Bohol and go to other places we didn't able to reach that time), such as the Chocolate Hills, Loboc River, the Tarsiers, Prony the snake, the underground cave, and the Blood Compact site (it's a historic spot in Bohol wherein a treaty was made between Spaniards and Filipnos by slashing their skin to drip blood to another one's slashed skin. Wasn't that horrifying? Hehe. Don't worry, that was yearsssss ago. people nowadays prefer to sign contracts with their Parker pens. Hehe). I share to you our Bohol picture collection:
The Blood Compact Site. Was my hubby one of them?????!!!!!
Prony the big goooooood phyton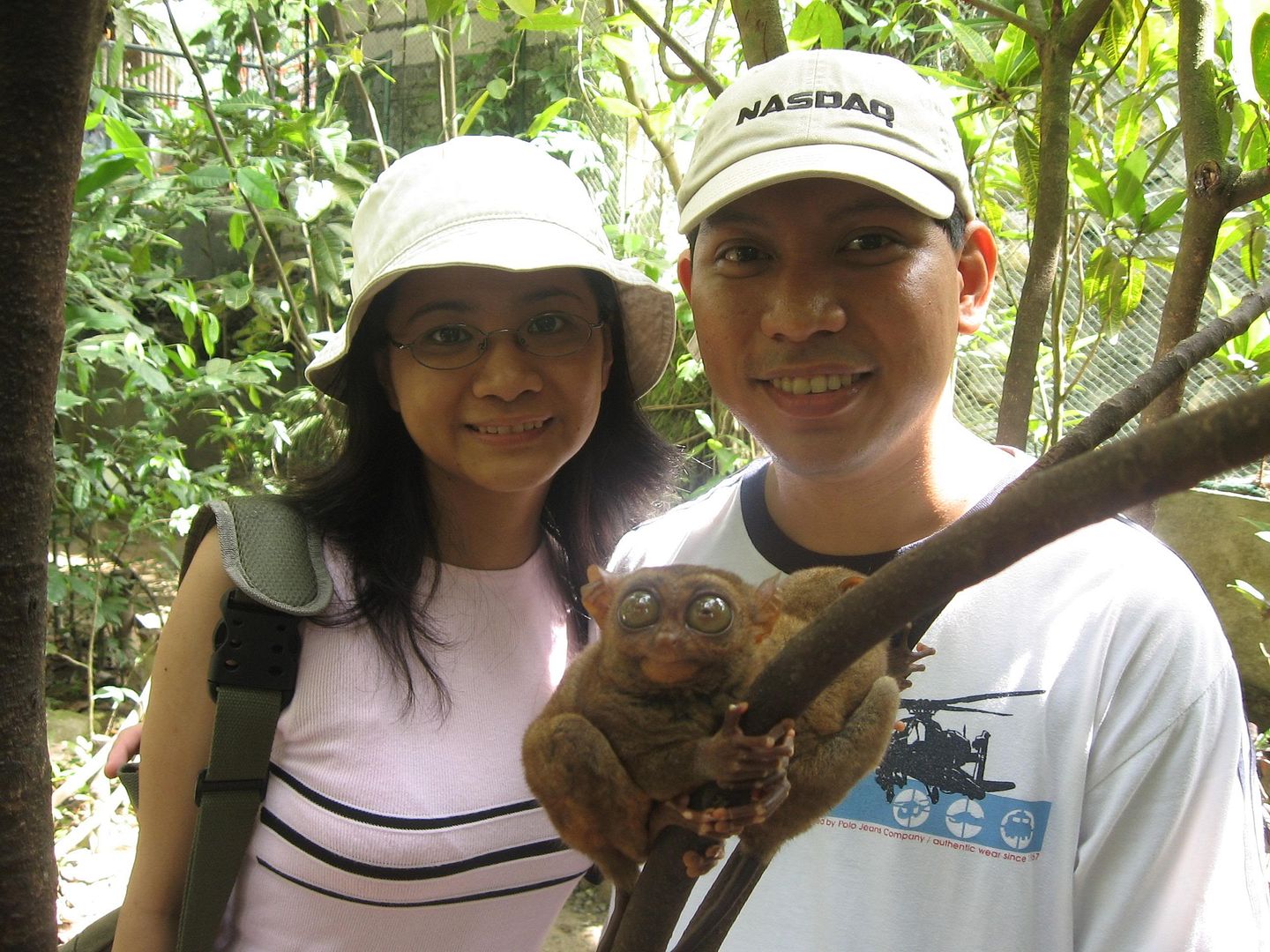 Sooo....who among us is the Tarsier?
If Chocolate Hills are really chocolates...I would eat them all! Haha!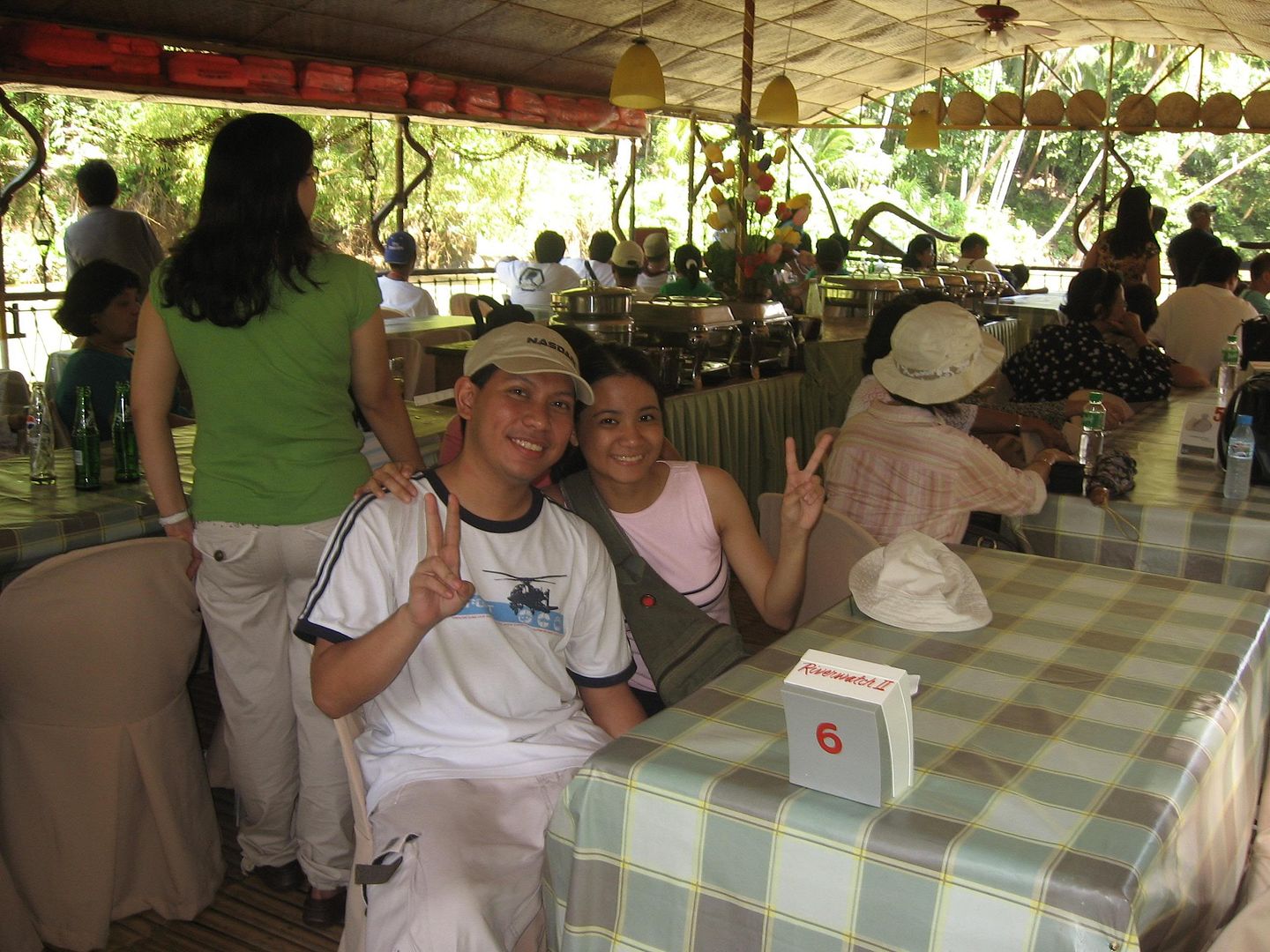 Lunch on the boat ride on Loboc River. Eat all you can!
In the Hinagdanan Cave. We can't picture the unerground pool water because it was too dark in there!
Back at the hotel...relaxing beside the beach with the waves
During our day 3, we woke up early to take a breakfast and enjoy the final moments in the hotel. We took more pictures by the beach. we even had a tour around the vicinity of the hotel, like their organic farm and bee hives (well, that's why the hotel was called Bee Farm because they specialize in Bee and honey products). Then before lunch, we packed our things and went to the airport. It was time to go back home in Luzon island.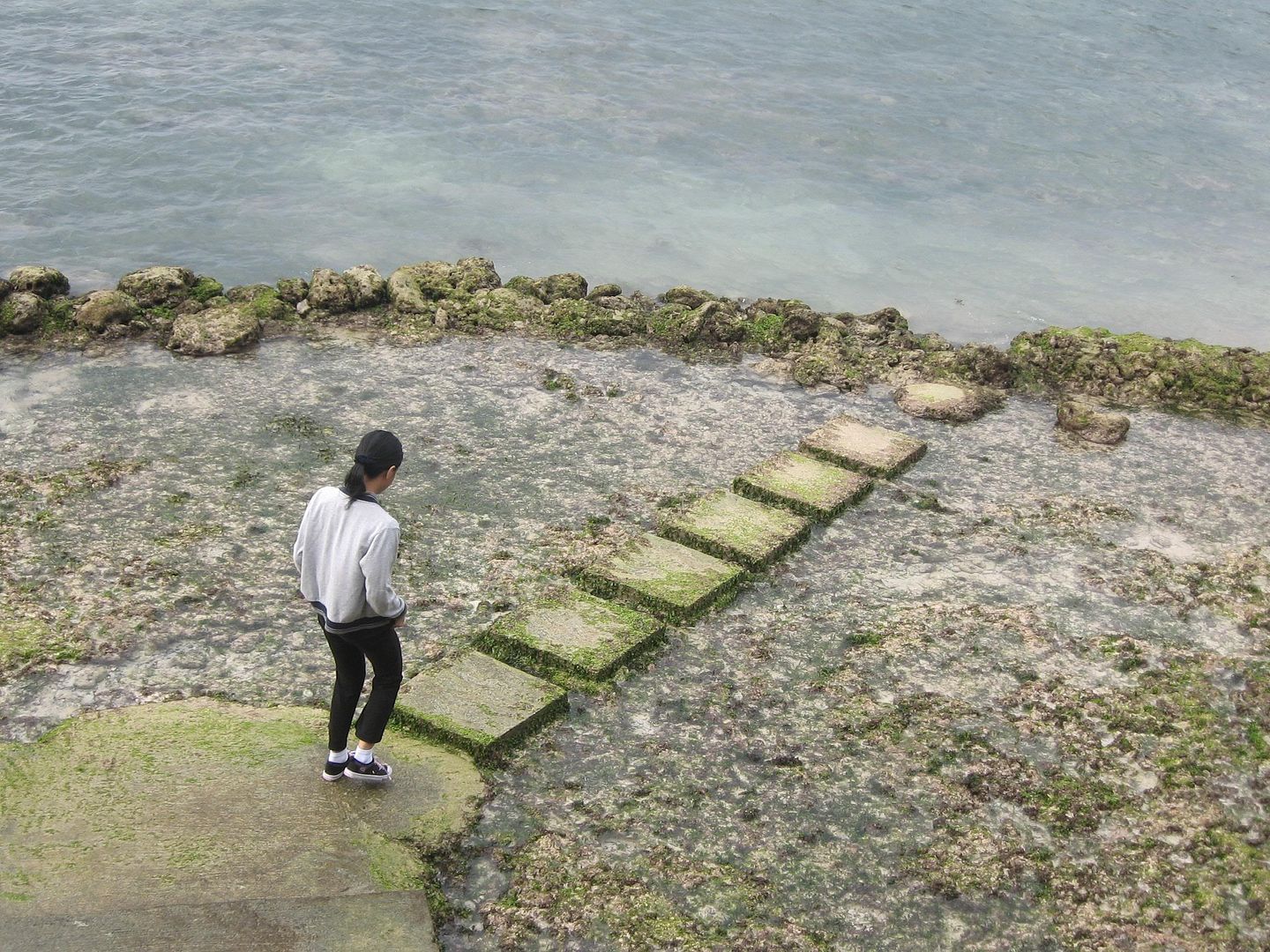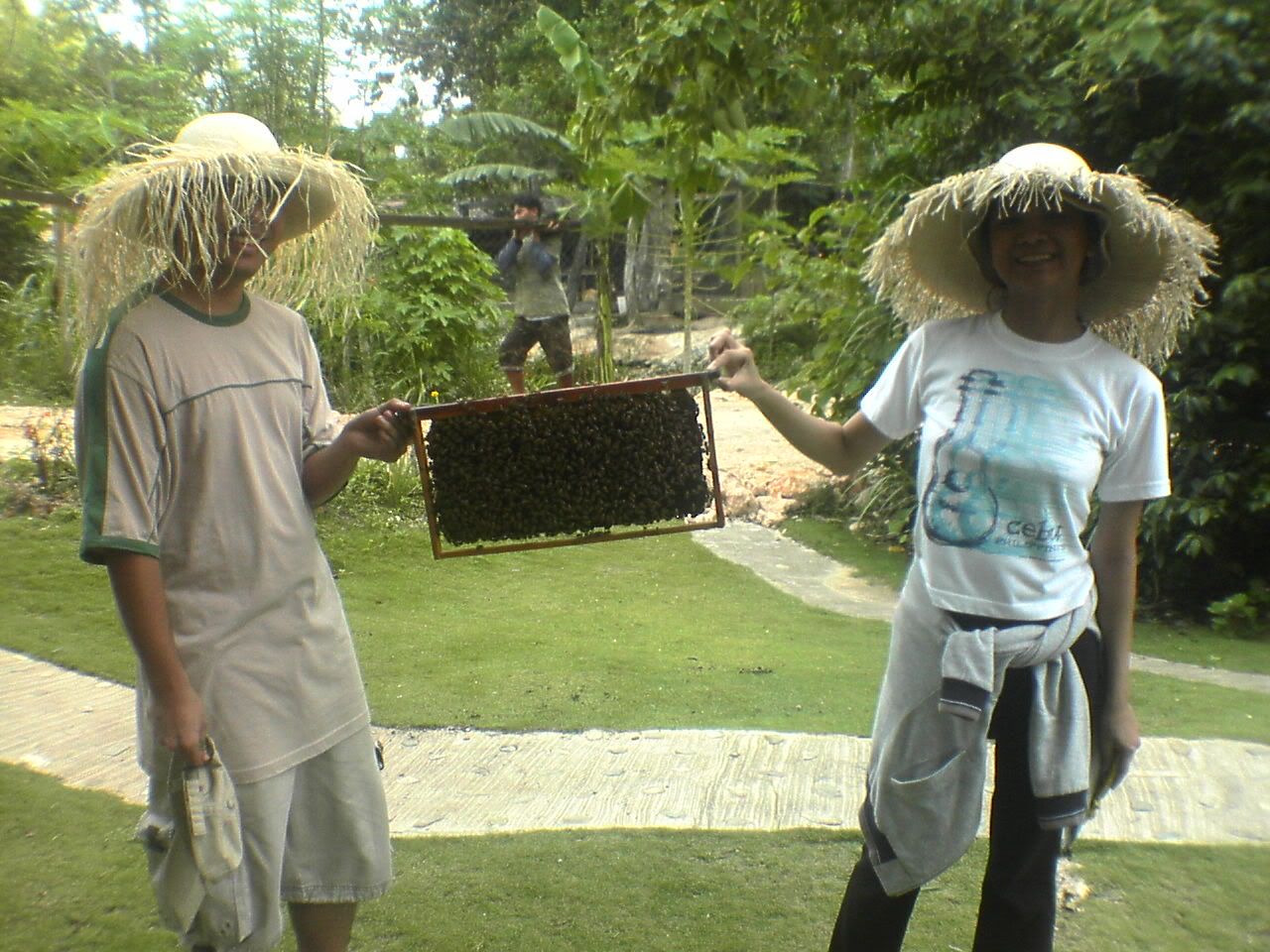 My hubby and I had an amazing time in Bohol. In all the places I traveled in our country so far, Bohol is the province I really like best and I would really love to go back there someday. But for the meantime, my hubby and I plan to visit Palawan by next year, on our 2nd anniversary, because it's our dream honeymoon place.
Next time, I'll gonna share to you our Subic trip. :)